DOWNLOAD THE AMERICAN SOVEREIGNTY DECLARATION

Get Sovereignty Coalition's Talking Points
No Description
6/2/23 DRAFT: Bureau's text of the WHO convention, agreement or other international instrument on pandemic prevention, preparedness and response (WHO CA+)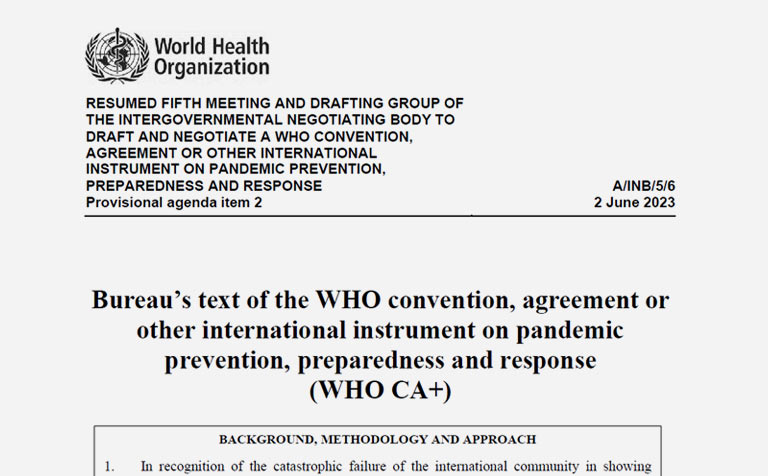 The Pandemic Prevention, Preparedness and Response Accord, commonly known as the "WHO Pandemic Treaty," not only extends greater power to the World Health Organization (WHO) to reallocate pandemic resources from member states and targets "misinformation" opposed to its own narrative, but also carries consequences for families and the unborn.
U.S. contributions to the W.H.O.
The United States of America and the World Health Organization work together on global health challenges to make the world a safer and healthier place. WHO is grateful to the United States for its leadership in global health, including health security, polio, primary health care and maternal child health.
Relevant W.H.O. documents on Amendments to the International Health Regulations (2005)
A/WGIHR/2/1 Provisional agenda A/WGIHR/2/2 Draft programme of work A/WGIHR/2/3 Proposed modalities of engagement for relevant stakeholders A/WGIHR/2/4 Rev.1 Provisional WGIHR timeline 2022-2024 A/WGIHR/2/5 Report of the Review Committee regarding amendments to the International Health Regulations (2005) A/WGIHR/2/6 Proposed amendments to the International Health Regulations (2005) submitted in accordance with decision